YOUR RELIABLE SOLAR PARTNER IN COSTA DEL SOL
Residential
Reduce your electricity bill by up to 70%
Become Grid-Independent
Enterprise
Become a Green Business
Lower Operating Costs for your business
Community
Benefit from a single solar installation for your whole community.
Understanding the Differences and Choosing the Right Energy Storage Solution In a nutshell: Virtual batteries present an excellent and cost-effective method for storing surplus solar energy as credit, applicable anytime and transferable to other properties. In contrast, physical batteries are more appropriate for maximum grid-independency and off-grid applications. Both battery alternatives suit new and existing…
Our Projects in Andalucía
Alhaurín de la Torre
30kWp
Feedback From Our Customers
Red energy keeps their word. They did a very good and fast job placing solar energy panels on my home
Great service.
Francis Bak-van Leeuwen
2022-12-12
We zijn heel erg tevreden over Rad energy. Ze kwamen langs om de situatie te bekijken en een advies te geven. Vervolgens was de offerte snel binnen met een tekening hoe de uitvoering gedaan zal worden. Na akkoord van de offerte, duurde het een week en werden de panelen geleverd en vervolgens de installatie gerealiseerd. Snel en vakkundig. Alles werkt goed, ook de teruglevering van energie naar de energiemaatschappij wordt geregeld en de subsidie aanvraag bij de Gemeente. Wij zijn zeer tevreden en raden Rad Energy zeker aan.
Great company, Hamzeh is very meticulous and professional. I wouldn't hesitate to recommend.
Can highly recommend RAD Energy 👍 Great value and quality branded equipment. They did a great job at our villa installing the system. We love seeing all that power produced from the panels. Very professional from the start. Hamzeh speaks English so it was very easy for us as still learning Spanish.
Robert Cantley
2022-08-20
I've had the installation for nearly a year now and thought it time to post a review. I expect that price and equipment may be similar across suppliers as it's such a competitive field, so I can't really make a comparison on that front. I can say that since installation it's worked according to expectations and without any issues. But to me what matters perhaps more than anything else is the after-sales service. On that I cannot fault this company. I've have made a few queries since installation, particularly about the software, and each time I have made an enquiry it has been responded to within hours. What is excellent follow-up. Also, prior to installation I was intending to install a much more costly system which would have included large batteries. This company could easily have followed my wishes and installed such a system to their financial gain, but rather than take the money and run they convinced me that for my particular needs the batteries would not be cost effective with the current technology. I am in electronics engineer with a 1st class honours degree, so I am not easily fooled. I was presented with reasoned arguments with an honest Summary of the pros and cons of each type. I can truly recommend this company as being honest, and efficient. I was also working under a time constraints for installation during my visit to Spain, and they met it to the day.
Wir haben uns eine Photovoltaik-Anlage mit 4,55kW von Rad Energy S.L. installieren lassen. Vom 1. Kontakt, über das Angebot, bis zur finalen Ausführung ist alles perfekt abgwickelt worden. Sämtliche Zusagen wurden eingehalten und wir sind bei der Anmeldung sehr gut unterstützt worden. Das Preis-Leistungs-Verhältnis ist ausgezeichnet und die eingesetzten Elemente hochwertig. Die Instsllation wurde rasch und sauber an nur 1 Tag umgesetzt. Wir können Hr. Alavirad mit seinem Team absolut und vorbehaltlos weiter empfehlen.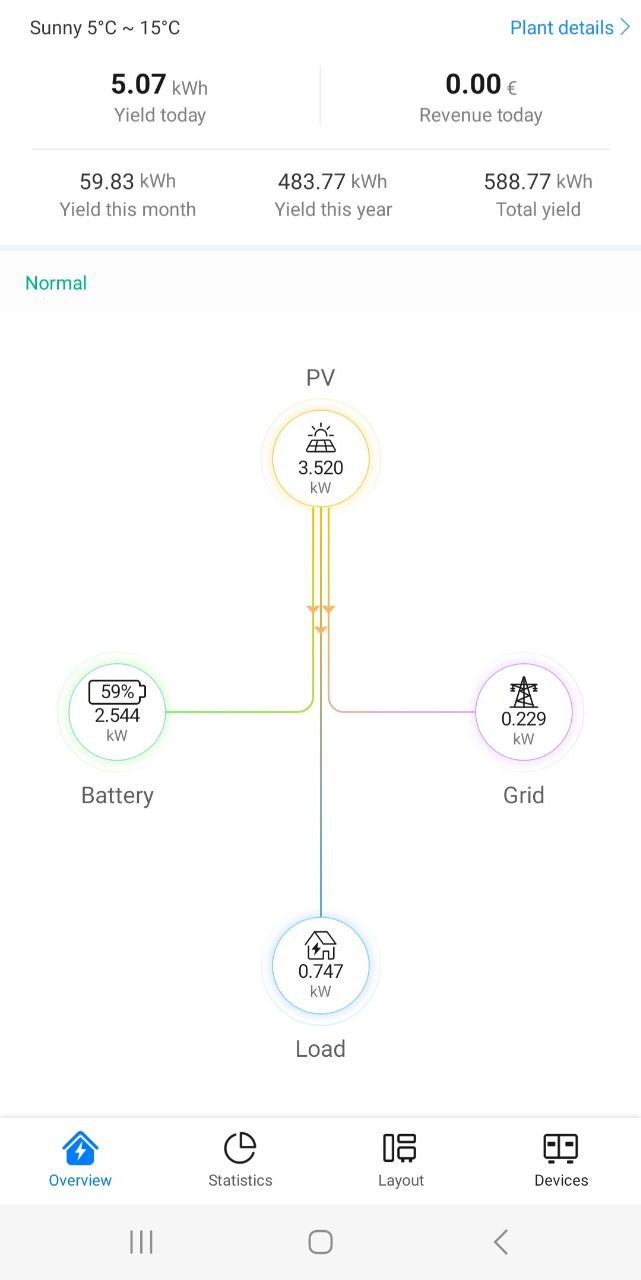 Mobile Monitoring Application of Your System
Real-Time Monitoring of your solar energy system (power, battery status, your consumption) on your Mobile device and computer from around the globe via the Internet
Module-Level Monitoring using the optimizers
Statistical daily, monthly and annual reports
Making renewable energy accessible for everyone, everywhere!
Providing green energy with local renewable sources.
Using technologies that align with local environmental and economic circumstances.
Need more information?